Where Does PACE Financing Fit Within the Capital Stack?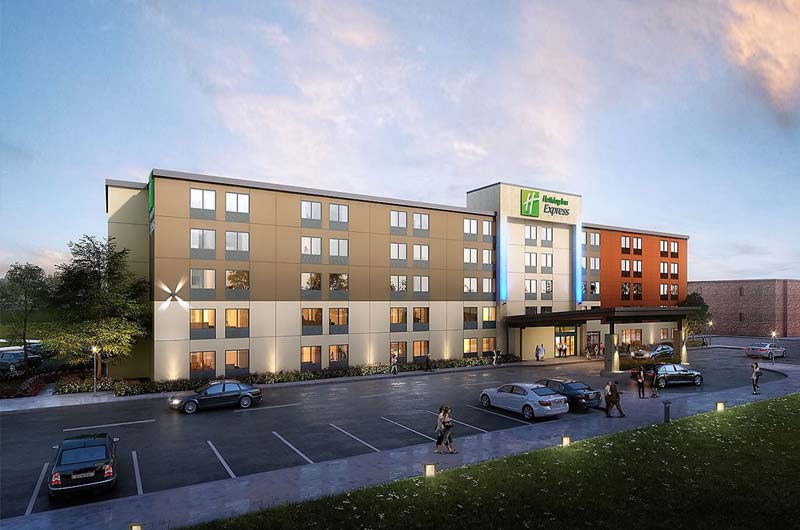 PACE, or Property Assessed Clean Energy, is a state-enabled financing mechanism that assists with projects in energy efficiency, water conservation, seismic strengthening, and renewable energy. In commercial real estate, you may hear it referred to as C-PACE, for Commercial Property Assessed Clean Energy. It is also often called "assessment financing".
The policy that makes C-PACE available reclassifies commercial clean energy upgrades as public benefits. Basically, improving a building's energy efficiency or water usage now qualifies as improving a public utility such as a sewer or road.
With PACE, private lenders can finance commercial improvement projects with generous conditions. Qualifying projects include maintenance upgrades or new construction. It applies to renovations, rehabs, and re-positionings of existing buildings.
What can C-PACE financing be used for?
Owners use PACE to improve mechanical, electrical, and structural components of existing buildings. Common projects include:
An Overview of C-PACE Repayment
PACE is low-cost, fixed-rate, long-term financing supported by the state. C-PACE can often be structured over 20-30 years depending on how long the project's improvements are expected to bring benefits.
Each year, payment appears as an assessment on the property tax bill. In some cases, repayment can be passed through to tenants. Typically, however, utility savings like energy and water more than offset these assessment payments.
Ultimately, PACE reduces annual utility costs while providing financing that is significantly better than traditional market offerings. Let's dive in to some of its specific benefits.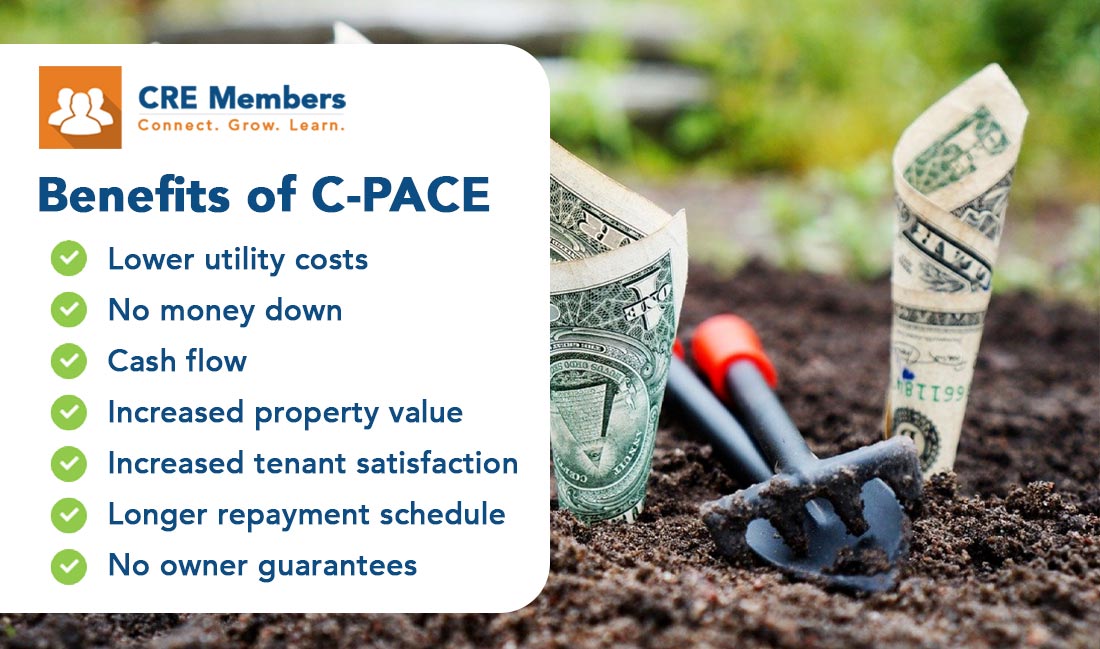 Many commercial real estate owners desire building upgrades or new projects that include clean energy. The cost of upgrades or building, however, can be prohibitive. C-PACE helps bridge that gap.
C-PACE's primary goal is to benefit the environment and, by extension, every person on the planet. However, there are secondary benefits that result from this policy-supported financial offering:
Lower utility costs. Once a project is complete, utility bills like energy and water typically reduce. Over time, these savings can even outpace the cost of PACE repayment.
No money down. Owners do not have to pay anything out of pocket to benefit from PACE financing.
Cash flow. Thanks to zero up-front cost and utility savings, many owners enjoy an immediate increase in cash flow upon project completion.
Increased property value. Clean energy upgrades and builds are desirable, increasing the value of property and attracting tenants or occupants.
Increased tenant satisfaction. Many tenants today prefer to know that they're doing all they can to reduce their impact on the environment. Additionally, all tenants appreciate lower utility bills.
Longer repayment schedule. Most traditional lenders require repayment in 5-10 years. In some cases, PACE terms can extend to 20-30 years.
No owner guarantees. Owners do not have to make any guarantees about the environmental benefits their upgrades or builds provide.
In addition to these benefits, C-PACE financing has a unique position within a capital stack. This is due to the relationship between PACE and the state, which places repayment on the property tax bill.
Repayment Collection Via Tax Bill
PACE financing gets paid off as an annual assessment on your property tax bill. In some cases, such as with a triple-net lease structure, these repayments can be passed through to tenants.
Owners can treat PACE payments as an operating expense. When it comes time to sell, PACE financing automatically transfers to the new owner. Alternatively, owners can pre-pay it before sale if desired.
PACE financing terms can extend up to 30 years in some cases. Over the course of 30 years, the savings on utilities alone thanks to clean energy installations can outpace the cost of the assessment payments. This makes C-PACE uniquely positioned to benefit commercial real estate owners and investors.
C-PACE and the Capital Stack
When it comes to understanding how PACE fits into a capital stack, there's a bit of debate. Some people see PACE as equity, whereas lenders see it as debt. It's actually neither, however.
There are different types of capital that go into making a project happen, such as:
Sponsor equity
LP equity
Preferred equity
Mezzanine debt
Senior debt
PACE is none of these things. It's an assessment that you use as security for lender repayment. Let's consider an example.
Say PACE covers a $10 million of a $50 million project. The annual interest rate for that $10 million could be around $900,000 a year. With traditional financing, you'd pay that off monthly along with your principal, spending around $80,000 a month in interest.
With PACE, however, an owner would simply pay the fixed rate of $900,000 as part of their annual tax bill. Many even pay off the total amount of funding when they refinance or sell the property, or pass it on to the new owner. Lenders interested in covering some or all of the rest of a project's cost know that PACE isn't equity because of this. But it's not quite debt, either.
PACE repayments get priority because they're at the tax level. However, they are free of common considerations with traditional financing, such as variable interest rates, owner guarantees, financial covenants, and quarterly reporting.
C-PACE reduces the Weighted Average Cost of Capital for many commercial projects. It can replace much higher cost financing to reduce debt service requirements and increase returns. It isn't really equity or debt—it's an assessment with great benefits.
Learn More About C-PACE and the Benefits You Might Be Missing Out On
As a financing option, C-PACE is a mechanism enabled by state-level policy that doesn't qualify as equity or debt. To learn more about how it fits into your capital stack, join the CRE Members Network for professional insights into commercial real estate investing. If you want to speak to an expert to find options you may not be getting with your bank, contact a C-PACE financing specialist today.
Join CREMembers.com, and Connect, Grow, and Learn Commercial Real Estate
The CREMembers.com Network is your #1 gateway to commercial real estate success. Pro Members have full access to virtual events, on demand video libraries, free training, school, lenders, vendors, and live video conferencing and networking. It's free to start, and create a professional profile to connect to commercial real estate in a new way. We built a community, tools, and resources for YOUR SUCCESS. Connect, Grow, and Learn with CREMembers.com.